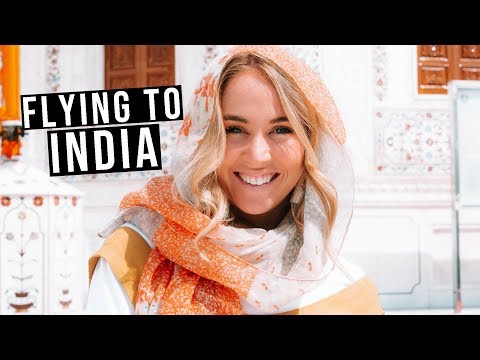 File Name: Flying To India | Australia to Delhi on Singapore Airlines
Duration: 10.44
View:: 81.600
Uploader: Flying The Nest
Published:
It's happening! We are so happy to be saying that we are finally flying to India!!
This has honestly been our most requested travel series to date ever since we started Flying the Nest and we are so thrilled to be in this incredible country.
Our 24 hour travel day from Perth to New Delhi started back home as we flew Singapore Airlines for the very first time. Our 3am morning start begun by testing out a lounge in our own Perth airport for the very first time - it's the Singapore Airlines SilverKris Lounge - and starting with pancakes is a great way to start an insane travel day.
After a super comfortable flight (big thumbs up to Singapore Airlines) we had a 6 hour layover at the Singapore airport so we decided to try out the SilverKris Lounge at Terminal 3 and wow - we haven't been in many lounges, but this is the best one!
After arriving at midnight, making our way through immigration we finally made it to our hotel...except there was a traditional Indian wedding happening at the doorstep (which took us a further 30 min to get in) no complaints as it was such an incredible welcome to this country!
Where we stayed in Delhi:
https://fave.co/2ItqF6o
Tour we are on in India with On the Go Tours:
http://bit.ly/2XbPF6j
Where we get our incredible music from:
http://share.mscbd.fm/flyin...
(--- Great music for Travel Vlogs & YouTube music for your videos)
Gear we shot this video with -
http://geni.us/XPv5iAu
SUBSCRIBE TO NEVER MISS AN EPISODE:
http://geni.us/38252Ai
----------------------------------------­­--
FLYING THE NEST:
Website •
http://geni.us/pfWWAeR
Facebook •
http://geni.us/D8wjeL
Twitter •
http://geni.us/tBLJ
Snapchat •
http://geni.us/kPAhCbq
STEPHEN:
Instagram •
http://geni.us/bmkE0l
Twitter •
http://geni.us/PLrsh
JESS:
Instagram •
http://geni.us/8CTDg
Twitter •
http://geni.us/rD65Fh
---------------------------------------­­--
Who we use for travel insurance:
http://bit.ly/travelinsuran...
Flying the Nest Merch:
http://bit.ly/FTNshop
Hi, we are Stephen & Jess, Australian vloggers documenting our first year of leaving home and travelling around the globe. We want to inspire others to venture out, explore, take risks and go on our own adventure!!
We also run a travel, tech and lifestyle blog over at www.flyingthenest.tv if you want to see personal recounts, photography, tips & wanderlust inspiration from Flying the Nest.
----------------------------------------­­--
End credit song: Ticky Tacky by Biocratic:
https://soundcloud.com/biro...
----------------------------------------­­--
For list of full Camera Equipment we use -
http://geni.us/pTot
Video Edited on Gigabyte Aero 15:
http://geni.us/aero15